Categories: power tools, blades and bits September 11, 2018 By Star Sales
How to Pick Between Steel & Carbide Reciprocal Saw Blades
No matter what power tool line you like the best, reciprocating saws can be punishing on their saw blades. One of the best ways to ensure that you'll go through fewer blades is to choose the right one for the job in the first place. But is that steel or carbide? Instead of spending time running back and forth to the store to get the right blade for the job, our comparison can help you pick out the first one at the beginning. Here's a quick look at the differences between these two blade types and how to select the best one for your project.
Differences
Click To Enlarge
But what are the differences between the two blade types? Generally speaking, steel blades are less expensive, while carbide-tipped blades are tougher. If you're going to be demoing a bunch of 2x4s or pallets to get rid of the wood, you probably won't be hitting a lot of nails, so cheaper steel blades are a great way to go. If you're going to be preserving the lumber for resale or reuse, a carbide-tipped blade will last much longer and bend less often when it starts going head to head with the nails or other fasteners that are holding the material together. If budget is a concern, go with steel. If you want to buy once and not have to run back to the store again, carbide is your hero.
Reciprocating Saws can be punishing on their blades. One of the best ways to ensure that you'll go through fewer blades is to choose the right blade for the job!
Features
So what are the real differences between these blades that make them act this differently under power? High-carbon steel is the cheapest and most flexible, meaning that they're less likely to break if they bind up, but they'll bend much more easily than other blades. High-speed steel is a bit more expensive, but resists heat much better and will last about five times longer than high-carbon steel, with this extra strength making them suitable for aluminum and non-ferrous metals as well. Carbide-tipped blades are much harder and more heat and impact resistant, making them deal well with steel and lasting up to 200 times longer than the basic carbon steel blade.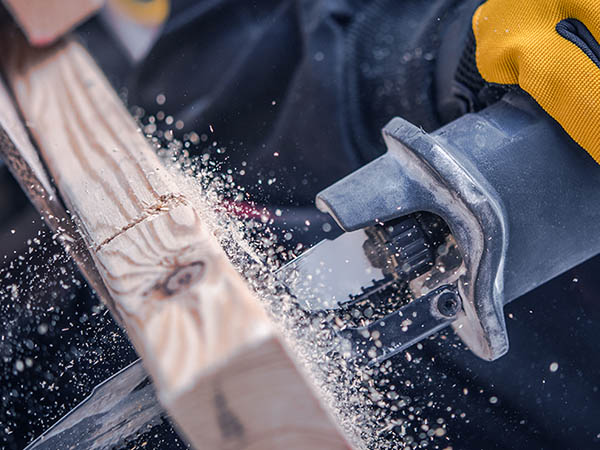 Click To Enlarge
Benefits
What benefit does one saw blade have over the other? Generally speaking, carbide is going to last much longer against nails and demo work, but tends to cut through wood more slowly. It's also more expensive, but you won't need to replace them as often, which equals fewer trips to the store and fewer stops to pull out your blade storage, haul off your gloves and time to change out the blade, especially if you've been going hard and the collet is hot. Better-quality steel blades are great for cutting quickly through wood, but don't hold up well for demo or metal cutting. This makes it a great choice if you're teaching your kid or grandkid how to make a birdhouse and don't want them binding up your good carbide blades in the process.
Whether your project demands fast-replacement steel or longer-lasting carbide, knowing which one is the best option helps you make the best choice to save money on the project. Whichever type of blade you select for your project, Star Sales has what you need to get the job done right the first time. Our experienced associates are ready to help you find the right materials, tools and supplies for your project, just reach out today to get started.
Resources:
https://www.coptool.com/carbide-recip-blades-vs-bi-metal-recip-blades-freud-milwaukee-lenox-dewalt/
https://www.discountsawblade.com/reciprocating-saw-blade-buying-guide_a/258.htm